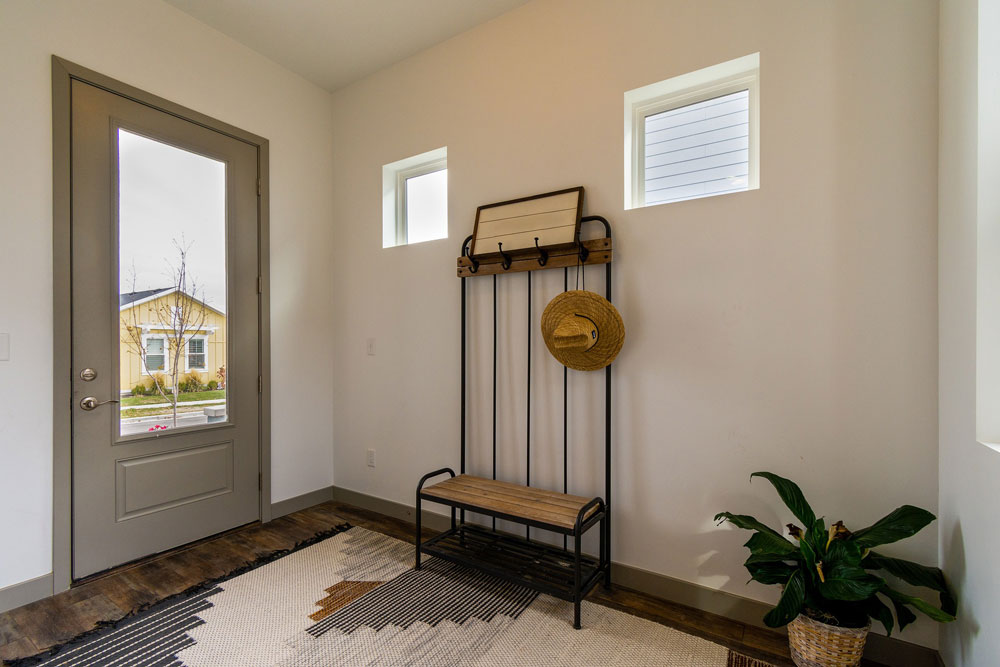 First impressions count. Entryways are sometimes overlooked, but an inviting space will make guests feel comfortable as soon as they arrive. You'll also appreciate coming home to a beautiful space. Make it special with one or more of the ideas below. If you think your space is too small, we got you covered too. Included are suggestions for a variety of layouts. No more excuses — let's get started.
Welcome Visitors With a Rug
Add an area rug to define the space, or a runner rug if you have a hallway. Especially if you're keeping the rest of the entryway low-key, a rug is an opportunity to bring in design, texture, and personality. Rugs are also functional. They'll protect your floors as people walk in and out.  For a narrow hallway, a runner rug will enlarge the space. Guests will instantly feel the cozy vibes as they enter your home.
Shine a Light
Make sure there is adequate lighting so people can see where they're going. This is helpful if you have steps or a place for people to take shoes on and off. However, keep the lighting soft to maintain a comfortable atmosphere. A chandelier is an elegant welcome. Try a chic table lamp, or if your style is more rustic, bring in a lantern-style design.
Decorate With a Mirror
Mirrors are a classy touch to any room, but they can be especially helpful if you're working with a small or windowless entryway. Plus, it's nice to have one last mirror check when you head out. As a decoration, make a statement with a large round mirror or one in an unconventional shape. Mirrors expand a room, and they'll open up the space even more by reflecting light. Just be mindful of the mirror's placement. You don't want to blind people with the sun's glare when they open the door.
Wood Furniture
A high-quality console table will elevate the space and allow you to store smaller items, such as your keys or a cute basket for the mail. Wood accents instantly add a warm and homey feel. It's also an opportunity to display artistic decor, like a vase, candle, or lamp. Floating shelves are chic, so give them a try. Go traditional with horizontal shapes and store a few books, or play with the contemporary design of hexagon and triangle shapes.
Drop-Off Area
Whenever you visit a home, there's always the question of, "where do I put my stuff?" Unburden guests by having a clear section for placing shoes, as well as hooks for hanging coats and purses. If you're hosting a party and are busy entertaining, people will know what to do as soon as they come in. For you and your family, you'll avoid clutter when there are designated places for things. Attractive baskets can help organize while keeping things stylish.
Refresh the Space With Greenery
Plants will freshen up the space with their beauty. They make a room feel put together, while feeling effortless at the same time. If you have a low-light entryway, consider plants that do well in the shade. A parlor palm, yucca cane, porthos, or ponytail palm are all lovely options. Mixing plant styles and heights can create a dynamic scene. Keep a vase in the area. For special occasions you'll have a place to add in fresh flowers.
Maximum Style
If your entryway is a bit separate from the rest of the home, it's an opportunity to express your bold or quirky side. A door in a cheerful color, a wallpaper in a whimsical print, a vibrant accent wall, or a pink chair will make your guests smile. Perhaps you envision a tranquil experience. If that's more your style, try soothing neutral colors in the area. You can absolutely still make a statement through other decor, such as a wreath on the inside part of the door, a blessing/protection Buddha statue, or a tabletop fountain.
Bring in a Bench
A bench is a charming addition and can serve different purposes. It's a comfortable place where anyone can sit while they take their shoes on or off. Find one that has a place for storage or organizational elements to help you declutter. A bench is also an opportunity to add style. Layer on a luxurious throw with a distinctive texture, or consider pillows in vibrant prints to add an element of coziness to the space.
Hang Artwork
Fill up bare wall space with something interesting. Entryways set the initial tone, so personalize it to make it feel like "you." Photographs give the space a lived-in, cozy look. Adding color is easy with framed artwork. You could choose to have one large focal piece, or make it gallery style. Mixing different sizes and frames can create a visually engaging look. If you have an extra piece that doesn't quite go with the rest of your home's decor, the entryway may be the perfect place. Another option is to give the wall depth and texture with stunning macrame wall hangings.
Tidy Up
Keep up the space with regular maintenance. Vacuum your rugs, sort the mail, remove overwhelming clutter, and keep the coat rack from becoming overstuffed. Dirty hands unintentionally mark up doors and walls over time, so get out those Magic Erasures. No matter how you decide to decorate, a clean space is always welcoming.
Improve your entryway. These tips will make your guests feel at home the minute they walk through the door. Don't feel like you need to pack your entryway with all these suggestions. In a smaller area, it's about quality, not quantity. Create a visual impact with your own personal touches.